WHAT IS CROSSFIT AND WHY YOU SHOULD BEING DOING IT...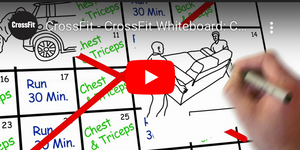 WHY YOUR WORKOUT SHOULD BE CONSTANTLY VARIED
WHY YOUR WORKOUT SHOULD FOCUS ON FUNCATIONAL MOVMEMENTS
WHY YOUR WORKOUT NEEDS TO BE HIGH INTENSITY
Testimonials
 

The makeup of this CrossFit Seize the Day group is like a family! There is a large range of ages, sizes, shapes and abilities. The common tread is support for one another. I don't think you'll find a friendlier or more welcoming group anywhere! I'm trimmer than I've been in decades! Cross Fit Seize the Day has changed my life!  

Jeff N.
 

I was always hesitant about starting CrossFit until I came to CFSD. The atmosphere is non intimidating and so inviting for anyone at any level, beginner or advanced.  I actually drive past about 5 other Crossfit gyms on my way here.  

Matt H.
This place is great!  The Coaches are really knowledgeable and incorporate a lot of different techniques when giving instructions.   The members are welcoming and enthusiastic.   This is an all level place.  Every workout can be modified for your own level of fitness, so grab your sneakers and go work out!  

Judy E.
For years I was interested in CrossFit but seriously afraid that I wouldn't be able to keep up and make a total fool of myself in front of everyone. After several months of going here, I can't say enough positive things about CFSD. This box has a lot of individuals who have all different body types from very athletic to first timers. Being with everyone makes you feel like you're in a wonderful and supportive community. The Coaches talk you through each movement and make sure you understand what you are doing. You definitely feel like part of the family when you are here.

Mike B.
This CrossFit is so different than other CrossFit's and other gyms out there. There is a family here and everyone motivates each other to keep going and work harder. Every day I walk into this gym everyone is so happy to be there and always has a smile on their face. The Coaches are so amazing and knowledgeable in and so happy to be there to help us get through each workout day by day.  I am happy to say I am a part of this family.

Dominick A.
This is not a place to feel intimidated only motivated. We cheer each other on and the level of support and enthusiasm we have for each-others' growth and progress is like nothing that I have witnessed in other gyms. My workouts are the part of my day that I MOST look forward to. My body is changing for the better as each week goes by and my confidence level is growing.

Camille L.
Not your average Crossfit. Everything is personalized and scaled per person. The Coaches are so encouraging and helpful. Body and mindset have changed drastically since starting. 10/10 would recommend!

Brittany K.
My wife and I decided to join CFSD earlier this year and we haven't regretted it for a second. We tried several others in the area before thankfully finding CFSD. Being new to CrossFit was intimidating for us but it was clear after day one that this isn't your average gym. I hate coming here but I absolutely love coming here...if that makes sense? Let me rephrase - IT'S A CHALLENGE, but the reward is that much greater. I never leave disappointed…

Justin S.
Best Overall gym experience l ever had, from someone who always avoided CrossFit. Coaches are amazing and take the time to teach you the proper moves and techniques. They are patient and motivating at the same time. I truly have never felt better or more excited about an exercise program in my life.

Laura P.